Vibration Testing Equipment – Vibration Analysis System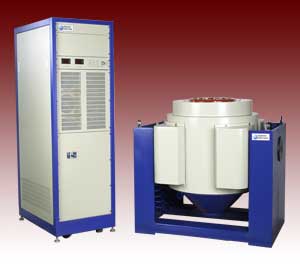 Dynamic Solutions has vibration testing solutions including new and used electro-dynamic vibration systems and test solutions to meet all of your vibration test, shock testing and other dynamic test requirements including field service, mil-std testing, automotive testing, aerospace testing, telecom and more. Click here for more information about Dynamic Solutions

or call toll-free 877-767-7077 (in U.S.A.)
or 011-818-831-0832 (Int'l).

Shaker Systems Electrodynamic vibration systems and permanent magnet shaker systems with 100% THREE YEARS Parts Warranty, 100% air-cooled up to 16,000 lbf. and water cooled to 40,000 lbf.

Long Stroke Shakers: The DS-6600LS and NEW DS-9000LS offer twice the stroke and three times the warranty of traditional wide band electrodynamic shaker systems. Conservatively rated for reliable continuous duty testing, these shakers were designed to meet todayís demanding high displacement random and shock test requirements with small to medium sized specimens.

DVC-8 8-Channel Vibration Control System Call for details and special introductory pricing!
NEW FREE DOWNLOAD!! AVAILABLE NOW!! DIGITAL VIBRATION CALCULATOR!! Calculate displacement and velocity required for shock and overall grms of your random curve with this simple, easy to use app from Dynamic Solutions and Vibration World. Download NOW.

WOW! Check out this video of our our new DS-3X Test System
Modal Thruster: Our new electro-dynamic M100 STINGER MODAL THRUSTER offers a high force-to-weight ratio and can be current or voltage driven. Perfect for testing structures, this shaker generates over 100 pounds of force. THE STINGERíS one-inch stroke and matching wide-band amplifier make this system an excellent choice for modal analysis over a wide range of frequencies. Trunion mounted and competitively priced, the STINGER is the perfect solution for your swept-sine, sine, random, burst-random, and pseudo-random modal test applications.
Used Test Equipment Reconditioned previously owned test equipment with warranty, including electro-dynamic shaker systems and mechanical vibe tables. We buy surplus equipment.
Vibration Repair & Maintenance Services Emergency Repair and scheduled preventative maintentance for ALL makes and models of electro-dynamic vibration equipment including systems manufactured by Ling Electronics, Unholtz-Dickie and Ling Dynamic Systems.
Replacement Amplifiers 100% Air-cooled, efficient switching amplifiers, custom built to meet the specific current and voltage requirements of your existing vibration equipment (ALL Makes), performance guaranteed, THREE YEAR WARRANTY! Robust designs incorporating state of the art IGBT technology at affordable prices.
Vibration Tables Seismic bases, oil film slip table assemblies, magnesium slip plates, hydrostatic bearing guided tables, guided oil film tables, stand alone slip tables and combo-base designs
Shock Test Equipment shock testers for a variety of ASTM and ISTA package testing and product fragility testing including: Incline testers, Package Drop Testers, Freefall Testers and Hydraulic Shock Testers
Head Expanders expand your shakerís mounting surface, for general vertical testing of oversized test articles or of multiple test units simultaneously, aluminum and magnesium construction options, custom fixtures, flexure guidance systems, vertical guidance and load support systems
Consulting On-site training, web-based personalized training seminars, lab planning, commissioning, from basics to advanced dynamics
Vibration Control Systems LOW COST Four-channel, PC-based control systems for Sine, Random applications. Download DEMO! Also sophisticated user-friendly multi-channel systems for SRS, Mixed Mode, Field Replication and other complex waveform test requirements
NEWS Archive Dynamic Solution's informative quarterly newsletter. FREE download. Articles about vibration testing applications, new product developments and company news.
Product Specifications download or view Dynamic Solution's product specifications
LINKS Various links and downloads including Test Specifications, MIL-STD's, Bellcore, Measurement Conversion Tools, Tutorials, Peripheral Equipment, Used Temperature Chambers, Trade Publications, Trade Shows