ELECTRO-DYNAMIC SHAKERS


DYNAMIC SOLUTIONS ELECTRO-DYNAMIC SHAKERS cover a wide range of force output from 220 to 88,000 lbf. for testing small to large payloads. The shakers are supplied with digital switching power amplifiers. In addition to our line of electro-dynamic shakers, Dynamic Solutions also offers VTS PERMANENT MAGNET AND TABLE TOP DESIGNS for shaker requirements from 40 to 600 lbf. These systems support a variety of applications including Automotive, Military, Aerospace, Aviation, Medical, Telecommunications and Electronics.

DYNAMIC SOLUTIONS Electro-Dynamic Shakers provide exceptional performance and proven reliability in hundreds of installations. DYNAMIC SOLUTIONS provides state-of art designs that include the following features:
ALL 100% AIR-COOLED up to 16,000 lbf
NEW Water-Cooled Shakers from 22,000 lbf to 88,000 lbf! (email or CALL!)
NEW LONG STROKE and Multi-Axis Designs
High First Resonance Frequency
Every system is thoroughly tested in full compliance with ISO 5344
Digital switching amplifiers utilize state-of-the-art IGBT technology
FULL 3 year parts warranty (including armature and field coils) on every system!
And we welcome custom applications.

CLICK HERE TO DOWNLOAD PRODUCT SPECIFICATIONS.

Air-Cooled Shaker System Specifications



Facility Requirements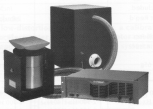 PERMANENT MAGNET SHAKERS
VTS
40

VTS
65

VTS
80

VTS
100

VTS
150

LOW COST, LOW FORCE VIBRATION SYSTEMS

Peak Sine

40 lbf

65 lbf

80 lbf

100 lbf

150 lbf

Amplifier Cooling Fan

INCLUDED

Vibrator Cooling Fan

N/A

INCLUDED

Stroke (p-p)

.75"

.75"

.75"

.75"

1.0"

Velocity

35 ips

70 ips

80 ips

100 ips

70 ips

Max. Acceleration (bare table)

60g

100g

115g

150g

210g

Armature Weight

.66 lbs

.66 lbs

.70 lbs

.66 lbs

.71 lbs

Suspension Stiffness

40 lbs./in (options available for larger payloads)

First Major Resonance

4500 Hz

4500 Hz

7000 Hz

4500 Hz

5400 Hz

Frequency Range

2-6500 Hz

2-8500 Hz

Nominal Impedance

6 Ohms

Power Requirements

4A/120V
2A/240V

14A/120V
8A/240V

18A/120V
10A/240V

18A/120V
10A/240V

28A/120V
15A/240V
---
Dynamic Solutions LLC
Call Us Toll Free at 877-767-7077

sales@dynsolusa.com
©2003 Dynamic Solutions